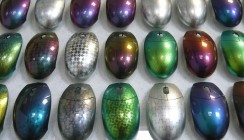 Everything becomes possible in our laboratory and filled with cutting edge equipment.
Our paints can create a multitude of effects that transform the surface of objects in two ways :
Visual Aspect
Color-Consulting, is color above all. Discover our incredibly varied products : you will find the exact shade you are looking for. And if it is not the case, we will create it for you. Finally, through our R&D department, we can offer you the colors that will be tomorrow's trends.
But that's not all. We can offer a wide range of visual effects, including imitation of wood, granite, leather, fabrics, anodized shades, pearl, speckled, glitter gloss or mate. Discover the most popular effects in our portfolio : cracks, chrome, marble, laser, "move", anno, hammer…
The use of laser provides depigmentation and enables endless patterns in paintings.
You want to include a picture or image on the surface of your product? Our digital imaging is used to transfer high resolution photos on a varnish developed in our laboratory on various plastic substrates, metal, aluminum, etc..
Our laboratory also develops holographic paintings that achieve a visual effect of the selected 3D graphic design (image depth ranging from 1mm to 1cm).
The touch
Do you want a special touch on your products ? We can offer the soft feel effect, anti-slip, leather, jeans, porcelain, ceramic, stone …
Color-Consulting continues to explore the area of paint coating using the most diverse materials.